FREE e-book!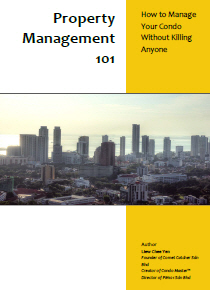 Property Management 101
How to Manage Your Condo Without Killing Anyone!
by Liew Chee Yen, creator of Condo Master
Managing a condominium is one of the toughest things to do. This book contains back-to-basics principles that are typically not discussed by anyone else, but would be important for any building manager or committee member to know.

Manage Your Data
Storing data on paper or spreadsheets is tedious, inaccurate and could be too easily accessed by unauthorized persons.
Condo Master helps you keep only one master copy that is accessible only by the right people.

Manage Your Operations
Property management means dealing with non-stop issues daily.
Condo Master helps you to stay on top of things as a team, and keep residents happy that their issues are being resolved quickly and effectively.

Manage Your Finances
Money is usually a hot topic in property management and residents constantly demand more transparency and more accountability.
Condo Master helps you to gain better insight on how the money is being spent. Pretty charts makes it all very easy to understand.
Features
Data Management
Unit info
Owner info
Tenant info
Vehicle info
Accessory Parcels, Car Parks, etc.
Strata Roll
Committee List
Operations
e-Notices
Documents / Minutes
Issues management
Maintenance Tasks
Meter Reading with charts
Purchase Orders
Asset/Equipment Tracking
Various operational reports
Accounting
Expense tracking
Payment Vouchers
Cheque Printing
Billing for maintenance charges, sinking fund, utilities, rental
Automatic billing of Late Payment Interests
Auto knockoff for advance payments
Receipts
General Ledger
Monthly and YTD Receipts and Payment statement
Trial Balance
P&L Statement and Balance Sheet
Executive Dashboard with Interactive Charts
Users
Customizable Roles for staff accounts
Unlimited number of user accounts
Tenant users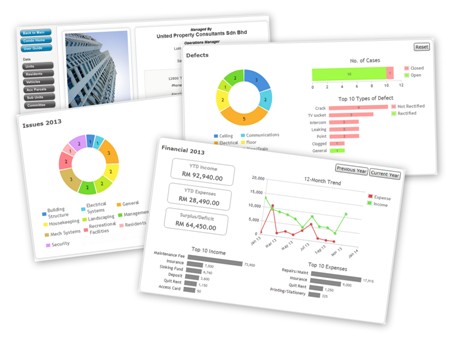 Standard Price
From MYR 500 per month
Discounts available for Low Cost and Low Medium Cost Apartments
Up to 50% BULK DISCOUNT
for property managers!
Call us today for a FREE demo!
enquiry@condo-master.com
+60 16 411 0990 (Mr Ch'ng)
+60 19 570 9228 (Ms Jovial)
Data Policy
At Condo Master, our policy has always been that the data belongs to the owners of the building/estate, who are represented by their righfully elected committee.
When a client terminates their subscription to our system, we will still allow them 1 month of free access in order for them to close accounts and extract data, on the condition that they do not have any outstanding bills with us.
Support
Our tech support is available from
Mon to Fri, 9AM to 6PM
(excluding Malaysian federal and Penang state holidays)
Email: support@condo-master.com
Comet Catcher Sdn Bhd (1026543-P)
72-2-68 Arena Curve, Jalan Mahsuri
11950 Bayan Lepas, Penang
Malaysia
Office : +60 4 618 0770
Email : cometcatcher2012@gmail.com
Our Vision
We are an internet software company based in Penang, incorporated in 2012, with a vision to provide the local Property Management industry with game-changing technology platform at an affordable price.
MSC Status Award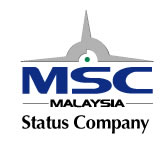 Our company has been awarded the "MSC Status Company" by the Malaysia Digital Economy Corporation (MDEC) on 20 Sep 2016.
Our Clients
Penang
PPC International (Penang) Sdn Bhd
Allied Group Property Services Sdn Bhd
BHL Property Consultants
Jiran Wangi Sdn Bhd
NJB Management Services Sdn Bhd
New Level Management Services Sdn Bhd
Melmax Management Services
Pengurusan CLC
AAA Property Services Sdn Bhd
EAD Property Management Sdn Bhd
Zeon Properties Sdn Bhd
P&O Properties
Smart Option Management Services
Signature Management
Suntech Penang
One Tanjung
Gurney Paragon Residences
BM City Realty & Construction Sdn Bhd
Tambun Indah
DNP Land (Wing Tai Asia)
VST Group
NB Tropics Development Sdn Bhd (New Bob)
Megamal Pinang JMB
PDC Setia Urus Sdn Bhd
Imperio Development Sdn Bhd
Straurus Property Management
Klang Valley
PR1MA
UDA
Metro Real Estates Consultant Sdn Bhd
PPC International Sdn Bhd
HSR Property Management Sdn Bhd
PA International Property Consultants (KL) Sdn Bhd
RF Management
Ong Maju Property Management Sdn Bhd
Landlords Property & Facilities Management Sdn Bhd
Straqta Sdn Bhd
Glancemy Sdn Bhd
G7 Properties Sdn Bhd
USS Property Services
Sirius Properties
ECS Facility Management Sdn Bhd
Rahim & Co Intl Sdn Bhd
Henry Butcher Malaysia (Mont Kiara) Sdn Bhd
Hunt Property Management Sdn Bhd
Weise Int'l Property Consultants Sdn Bhd
Allied Group Property Services (KL) Sdn Bhd
KLIA Properties Sdn Bhd
Asiacap Valuers & Property Consultants Sdn Bhd
JL99 Land Sdn Bhd
Asian Pac Holdings Bhd
Johor
Sepadu Facilities Management Sdn Bhd
Guardian Facilities Management
Invenio PTL Property & Facilities Management Sdn Bhd
WTW Property Services Sdn Bhd
Dualtap Building Management Sdn Bhd
Artfield Property Management Sdn Bhd
East Malaysia
CMS Property Development Sdn Bhd
IJM
FTM Management Sdn Bhd
We have exceeded 500 sites at end of 2020.
Some of our client sites are:
8 Gurney, PG
Allila Homes & Alila Horizons, PG
All Seasons Park, Air Itam, PG
AVARA (Seri Tanjung Pinang), Tanjung Tokong, PG
Damansara Foresta, KL
Elit Heights & Elit Avenue, PG
Gold Coast, Bayan Lepas, PG
Golden Triangle, Bayan Lepas, PG
Gurney Beach Resort, PG
Gurney Paragon Residences, PG
Fettes Residence, PG
Infinity Beachfront Condo, Tanjung Bungah, PG
Iconic Skies, PG
Legenda @ Southbay, Batu Maung, PG
Mansion One, PG
Mar Vista, Tanjung Bungah, PG
MBF Tower, George Town, PG
Megamal Pinang, PG
Menara BHL, George Town, PG
Meridin Bayvue, JB
Molek Pine 1, 2 & and 3, JB
One Ampang Business Avenue, KL
One Precinct, Bayan Baru, PG (MSC Status building)
One Soho, Subang, SELANGOR
Penang Plaza, PG
Penang Times Square, PG
Platino, Gelugor, PG
Platinum Hill PV5, KL
Rivervale Residences, Kuching, SARAWAK
Setia Eco Park (Precinct 3), Setia Alam, SELANGOR
Southbank Residence, KL
Stulang Villa, JB
Suntech @ Penang Cybercity, PG
Sunway Wellesley, BM, PG
Symphony Hill Beethoven, Cyberjaya, SELANGOR
The Arena (Arena Curve/Arena Residences), PG
The Cantonment, PG
The Clovers, PG
The Cove, PG
The Loft, PG
The Rise Collection I, II & III, PG
The View, Gelugor, PG
Treetops Residency, IPOH
Tropicana Bay Residences @ Penang WorldCity, PG
Vertiq, Gelugor, PG
... and many more.